September 2015 whole herd tested negative again for
Brucellosis, TB, CAE, Johne's, and CL!
Hypocalcemia - What it is and how is it prevented/treated?
Our small farmstead is currently home to four does (LaMancha & Mini-Mancha). They each have individual box stalls that they stay in each night, a large pasture & forest to browse, free-choice orchard grass/clover hay, loose minerals and a protein block. We perform our own fecal tests and de-worm the goats only as needed using either Ivomec or Dectomax administered orally. We utilize di-methox 12.5% for coccidia control and vaccinate for CDT and pneumonia.
Simcha


"Simcha"
Buckskin color
Registered MDGA Mini LaMancha
62.5% LM, 37.5% ND
DOB: 3-20-2010
"Simcha" is registered MDGA, mini-LaMancha, and is 26.5 inches tall at the withers. She has high milk production (1 gallon at peak), very easy keeper, has great body capacity, lovely brisket, correct legs, and would easily milk through an extended lactation period. She has a very sweet disposition, is polite on the milk stand, and has perfect sized teats for hand milking. She has given us triplets three years in a row!

---
Tempo Kim
Daiquiri

Purebred ADGA LaMancha #L001633313 DOB: 4-6-13
"Daiguiri" is a beautiful 2 yr old first freshener with a very nice udder, strong attachments and excellent teat size, She is a grand-daughter of our Tempo Kim doe and is a very easy keeper and has good conformation. She is super easy to hand milk with her large teat size. We are anxious to see how her udder develops upon her 2nd freshening.
Promise Me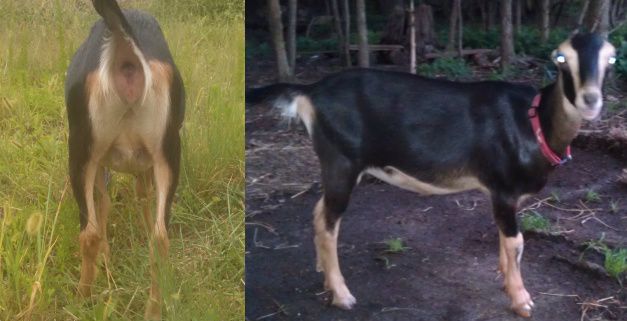 Promise Me
Swiss pattern color
Purebred ADGA LaMancha #L001721156 DOB: 4-3-15
"Promise" is an up and coming yearling first freshener. We are excited to see how she continues to develop and what her udder looks like when she freshens spring of 2016!